Picnic Basket Side Dishes - Deviled Red Beet Eggs
Picnic season is here! We're going to take the next few blog posts to talk about quick ideas for picnic sides using ingredients you can find at the farmers market. Today, it's deviled red beet eggs - what's a picnic with deviled eggs!
Sure, we could have just shared a recipe for plain old white deviled eggs, but it's red beet season, and nothing is prettier than a red beet deviled egg. There are a few steps to this recipe, but stick with it because the the outcome is well worth it!
Step One: pickle your beets! Here's an easy recipe for pickled beets, standard, quick and not complicated. You'll end up with great pickled beets.
Step Two: Make hard boiled eggs, the most important step to get right!. Now this may sound silly, but you want old eggs. Older eggs are easier to peel. Our farmers bring such fresh eggs to market that if you try to hard boil them the day you get them home you'll end up with half the white stuck to the shell. You'll be cursing at the farmer and that's just not good. Your eggs should be about 2 weeks old to make peeling easier. Follow the directions here to make a perfect hard boiled egg.
Step Three: Pickle your eggs by soaking them with your pickled beets. You'll likely need to turn them midway through the process to get them a uniform color. I like to keep them in them with the beets for about 12 hour. After that the yolks begin to soak up the beet color and, well, it just isn't pretty.
Step 4: Devil them! Where to begin? There are so many recipes for deviled eggs. I love the recipe in Food With Friends by Leela Cyd. Yep, I still buy cookbooks, still love them! I kept my filling simple for this post, but there are so many different ways to flavor your filling it's difficult to decide.
Here's my process with my tried and true process. I make a lot of deviled eggs. My 93 year old mother-in-law loves them and I want to stay on her goos side.
The yolks are perfect. If you are getting a gray ring around your yolk, you're over-cooking your eggs!
I love using my potato ricer to mash my yolks - gives a smooth texture!
Really - you can do more than rice potatoes with your potato ricer!
I used mayo, cumin, turmeric and lemon juice.
Consider adding some relishes or salsa from Hazel & Ash or Laura's Garden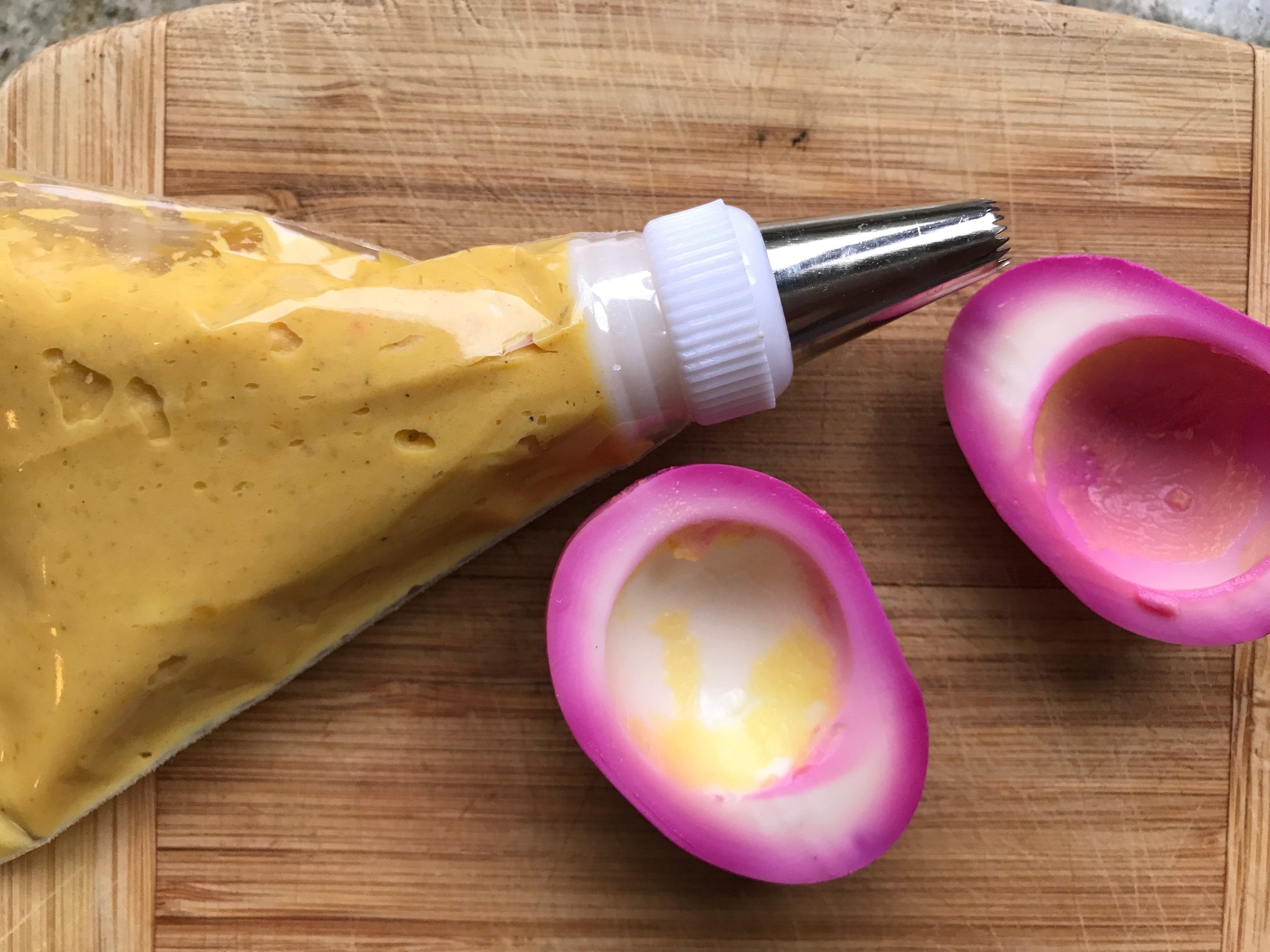 I use a piping bag to fill the eggs - looks prettier!
I like to use different tips to make the filling look nice.
I added capers, diced pickled beets, and slivers of Laura's Garden Pickled Carrots
There you go, deviled red beet eggs - so delicious.
What's next? Tomorrow a great cabbage and cucumber slaw, plus zucchini ribbon salad. That's right - ribbons - the spiralizer is making it's debut. Wednesday we're cooking up an amazing carrot dip - delicious, simple and oh so good for you. And Thursday we're featuring a reader recipe using jams from Mamy'li Jam!